After a rollercoaster of a 2022 season, Dina Asher-Smith is relieved to have had a straight-forward off-season – the result of which came to fruition at the Init Indoor Meeting Karlsruhe where she equalled the long-standing meeting record with her 60m victory at the World Athletics Indoor Tour Gold meeting on Friday (27).
Her joy was palpable as she returned to the German city where she had often raced before. She ran a controlled heat, winning in a PB of 7.07 to finish comfortably ahead of world indoor champion Mujinga Kambundji. Poland's 2019 European indoor champion Ewa Swoboda had won the other heat in a convincing 7.09, though African 100m record-holder Marie-Josee Ta Lou picked up an injury during that race and didn't progress to the final.
Drawn in adjacent lanes in the final, Asher-Smith matched Swoboda's trademark rocket start, but then began to pull away as the Pole tightened up and faded slightly at the finish. The Briton powered through the finish line in 7.04, not only equalling the meeting record set 27 years ago by Irina Privalova, but also taking 0.02 off the British record, moving into the European all-time top 10 in the process.
"I always love racing here, and I'm so happy to come away with a PB and national record," said the 2019 world 200m champion, who said at the pre-event press conference that she most likely won't compete at the European Indoor Championships in March.
"I've had a really good winter, so I've been really excited to get back out here," she added. "The crowd helped me, 100%. The last time I was here it was in the middle of Covid and there was no crowd, so thank you to Germany for making this an incredible meet."
Swoboda finished second in the final, matching her 7.09 from the heats. Kambundji was third in 7.11 and Britain's Daryll Neita was fourth (7.16).
Hailu, Fayisa and Horvat win close contests on the track
Unsurprisingly for this early stage of the season, world-leading marks were set at all distances from 800m upwards. But the shocks and thrills came in the form of close finishes.
The women's 3000m had the deepest field of all track events, boasting five global medallists – all of them from Ethiopia. World indoor champion Lemlem Hailu was perhaps the marginal favourite, but 2021 world U20 5000m champion Mizan Alem ran strongly during the middle section of the race, leading the field through 2000m in 5:53.11.
At that point, world bronze medallist Dawit Seyaum was in second place with world steeplechase silver medallist Werkuha Getachew close behind. Hailu started to move through the field and navigated her way to the lead with two laps to go, but Getachew was starting to make her presence known.
Getachew tried making a move on the inside with a lap to go but was unsuccessful. Hailu, meanwhile, was kicking hard, taking frequent glances behind to ensure she was safe. She did just enough to hold off the steeplechase specialist, winning in 8:37.55 to Getachew's 8:37.98, a PB.
Seyaum (8:39.20) and Alem (8:39.79) were close behind, while steeplechaser Zerfe Wondemagegn completed an Ethiopian sweep of the first five places.
Few people had heard of Abdisa Fayisa before this year, but the Ethiopian teenager made a name for himself with his 3000m win in Karlsruhe.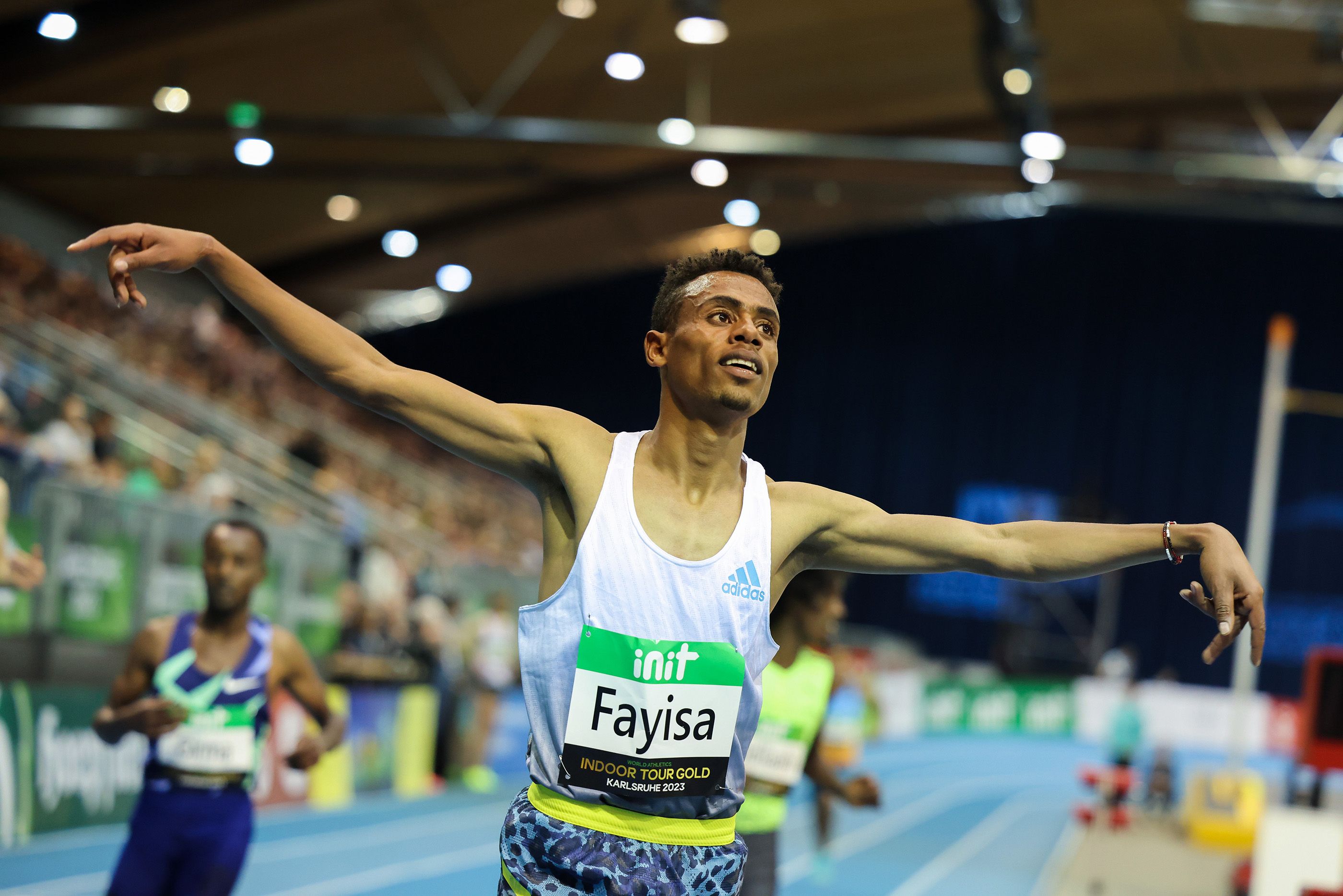 Abdisa Fayisa celebrates his 3000m win at the World Indoor Tour Gold meeting in Karlsruhe (© Dan Vernon)
The 17-year-old ran an astute race, letting his opponents do the hard work with Germany's Mohamed Abdilaahi taking on the lead once the pacemakers had done their job. Abdilaahi passed through 2000m in 5:08.25 with Serbia's Elzan Bibic tucked close behind.
Belgium's Robin Hendrix, Abdilaahi's training partner, then made his presence felt at the front of the pack, but Fayisa and fellow Ethiopian Adisu Girma were always positioned well. Hendrix kicked hard at the bell and Abdilaahi began to fade.
But just when it looked as though Hendrix was away and clear, Fayisa clawed back the deficit and caught the Belgian just before the line, winning in 7:40.35 – a world indoor age-17 best, and the fastest time in the world this year.
Hendrix was second in 7:40.53, an outright PB by six seconds, and Girma was third in 7:41.53.
In the women's 800m, Anita Horvat prevented a third Ethiopian victory of the night.
Ethiopia's Freweyni Hailu went out hard, following the pacemaker who reached halfway in 57.70. Hailu continued to lead through 600m while Britain's Jemma Reekie began to fade. World finalist Anita Horvat, meanwhile, was getting into her stride and making up ground on the long-time leader.
Horvat drew level with the Ethiopian on the home straight and timed her finish well to take victory by just 0.02 in 2:00.44, both women setting indoor PBs and moving to the top of the 2023 world indoor list. Switzerland's Lore Hoffman came through to take third in 2:01.40.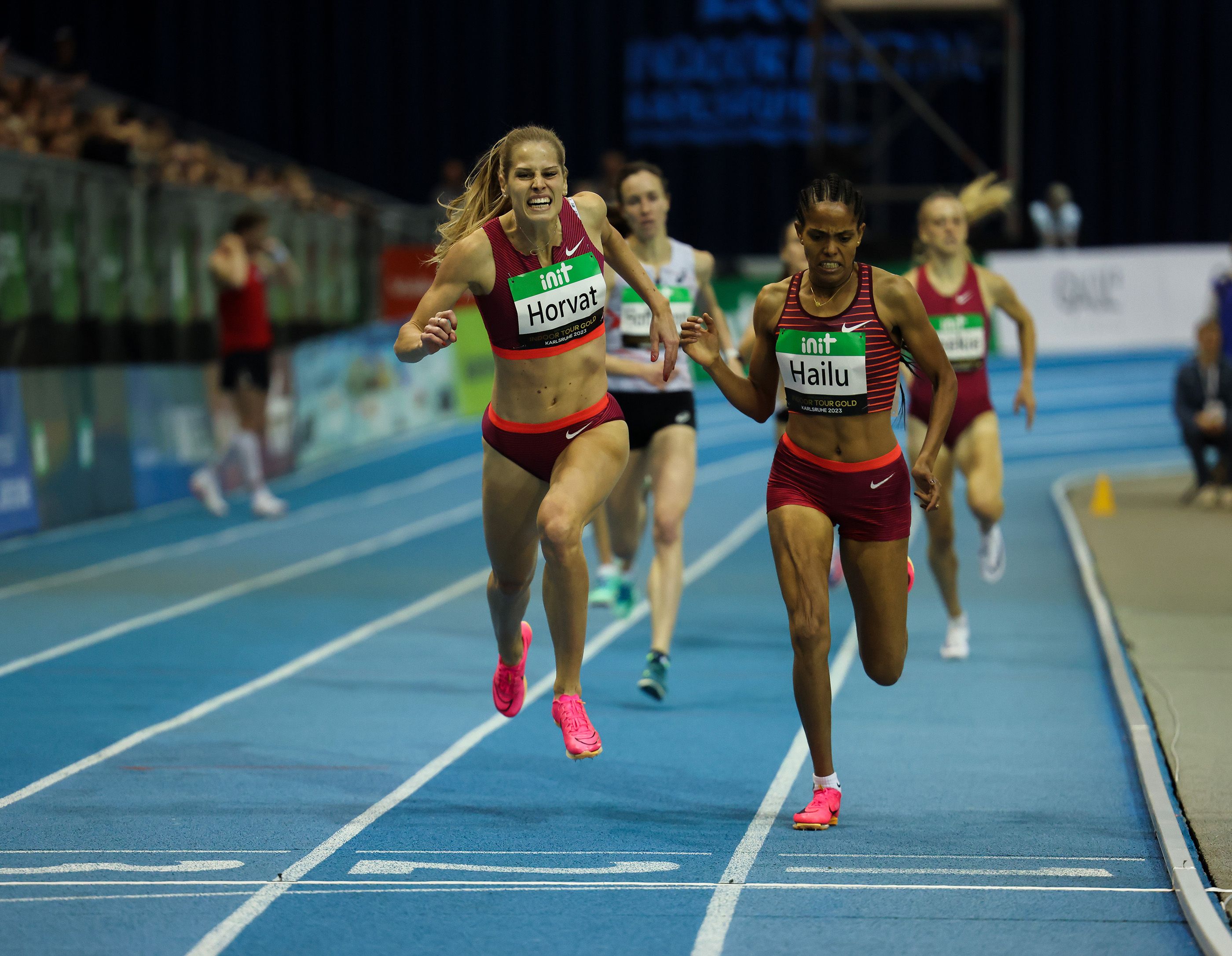 Eventual 800m winner Anita Horvat and Freweyni Hailu battle for the line in Karlsruhe (© Dan Vernon)
Elsewhere in the middle-distance events, Britain's George Mills ran away with the men's 1500m. The 23-year-old moved past a fading Adel Mechaal with a few laps to go, then proceeded to open up a clear gap over the rest of the field.
Mills extended his lead on the final lap to win in an indoor PB of 3:35.88, finishing almost a second and a half ahead of his nearest rival, Portugal's Isaac Nader (3:37.29).
Convincing wins for Povea, Marschall and Vuleta
All three victors of the jumping events in Karlsruhe won with relative ease, all setting world-leading marks in the process.
Cuba's Liadagmis Povea opened the triple jump with 14.16m, which was matched by her compatriot Leyanis Perez-Hernandez. The latter then went out to 14.45m, while Povea jumped 14.43m. But Povea went further in the third round, setting an indoor PB of 14.64m. That remained the best mark of the day, but she consolidated her lead with 14.52m in round five.
USA's KC Lightfoot notched up his first ever victory at the World Indoor Tour meeting, winning the pole vault with 5.83m. The 23-year-old cleared all of his heights on his first attempt, up to and including 5.83m.
Australia's Kurtis Marschall and Greece's Emmanouil Karalis also cleared that height, an indoor PB for the latter, but they had some failures earlier in the competition.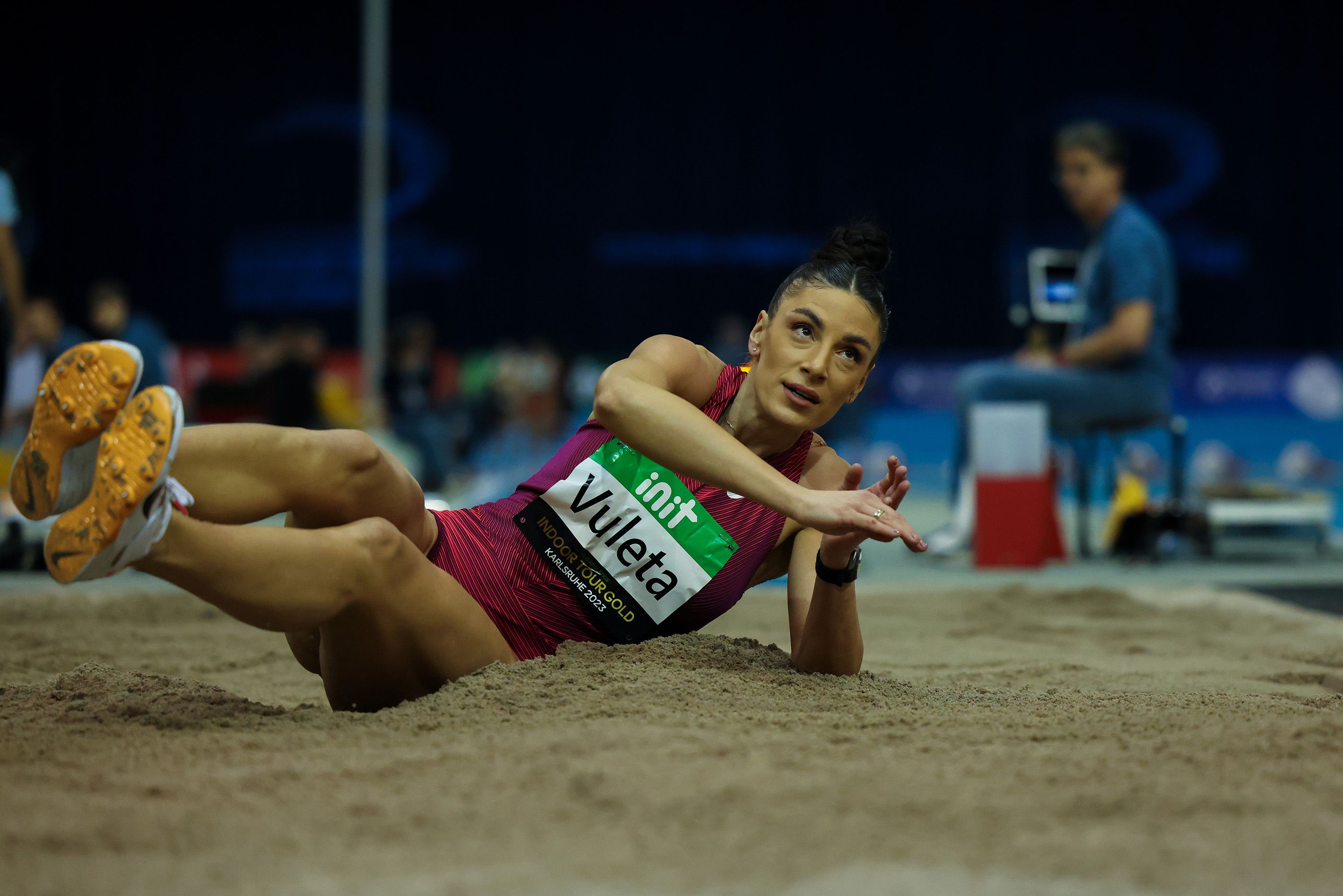 Long jump winner Ivana Vuleta at the World Indoor Tour Gold meeting in Karlsruhe (© Dan Vernon)
With her first leap of the competition, two-time world indoor champion Ivana Vuleta effectively wrapped up the long jump contest. Despite jumping off a short approach, the Serbian sailed out to 6.76m – a world-leading mark at this early stage of the season – which held up as the best mark of the day.
Agate de Sousa of Sao Tome and Principe was second with 6.66m, just four centimetres ahead of Germany's Maryse Luzolo.
Elsewhere in the field events, Chase Ealey's winning streak came to an end in the women's shot put.
In a competitive field which surprisingly lacked some truly long distances, the world champion struggled to find her rhythm and wound up sixth with a best of 18.61m. World indoor champion Auriol Dongmo – the last person to beat Ealey – produced a fourth-round effort of 18.90m to win by two centimetres from Canada's Commonwealth champion Sarah Mitton.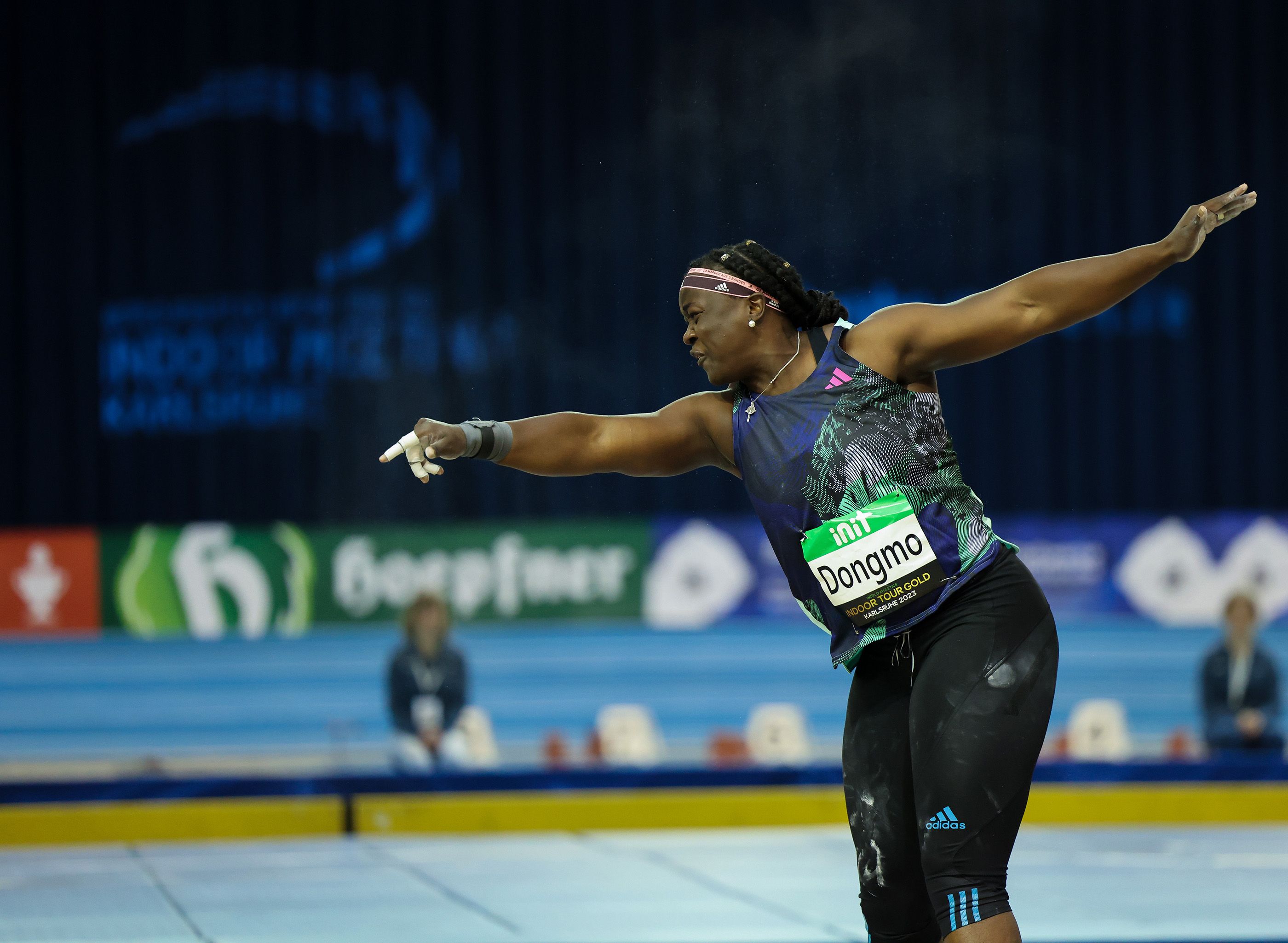 Shot put winner Auriol Dongmo in action at the World Indoor Tour Gold meeting in Karlsruhe (© Dan Vernon)
Spain's Llopis and Martinez separated by just 0.002 in 60m hurdles
The men's 60m hurdles had the closest finish of the night as just two thousandths of a second separated eventual winner Enrique Llopis from fellow Spaniard Asier Martinez, the European champion.
Martinez appeared to be marginally ahead, but Llopis came through when it mattered to take the win in a photo finish, both men timed at 7.57.
Earlier in the evening, Poland's Jakub Szymanski and France's Just Kwaou-Mathey both ran PBs of 7.57 to win their respective heats, but they finished third (7.60) and fifth (7.65) respectively in the final.
In the evening's other sprint event, Denmark's Benjamin Lobo Vedel won the men's 400m in 46.45 from Spain's Oscar Husillos (46.63).
Jon Mulkeen for World Athletics