One week on from season kick-off in Karlsruhe, the World Athletics Indoor Tour Gold continues in Boston on 4 February, when multiple global champions will contest some key clashes at the New Balance Indoor Grand Prix.
World record-holders Grant Holloway and Sydney McLaughlin-Levrone open their seasons against some top opposition, while Noah Lyles and Trayvon Bromell battle in the men's 60m and Olympic gold medallists Katie Moon and Katerina Stefanidi go head-to-head in the women's pole vault.
Holloway will be among the stars looking to put on a show on home soil in his first competition in the US since retaining his world 110m hurdles title in Oregon in July. The 25-year-old has a sensational indoor record to maintain – he was last beaten in an indoor sprint hurdles race in 2014, when he was 16 years old, and he has since extended his win streak to more than 60 races, including heats and semifinals.
That remarkable run includes one world indoor title-winning performance, achieved last year in Belgrade where he matched his own world record of 7.29, first set at the World Indoor Tour Gold meeting in Madrid in 2021.
His compatriot Trey Cunningham will be looking to break the tradition. Silver medallist behind Holloway at last year's World Athletics Championships, the 24-year-old was also runner-up at the last edition of the New Balance Indoor Grand Prix, when he clocked 7.47 behind Holloway's winning 7.37. The double NCAA champion opened his season with a 7.60 win in Fayetteville last weekend.
Joining them is USA's NACAC champion Freddie Crittenden, who has already clocked 7.52 in Flagstaff and 7.53 in Iowa City this season, plus athletes including USA's Robert Dunning and Louis Rollins, Britain's Joshua Zeller and Jamaica's Damion Thomas.
In the women's 60m hurdles, world indoor silver medallist Devynne Charlton of The Bahamas lines up alongside Sharika Nelvis and 2015 world gold medallist Danielle Williams, who won last year.
Intriguing 60m match ups
The women's 60m also features a world record-holder, but unusually that athlete doesn't start as the dominant force.
McLaughlin-Levrone is the current queen of the 400m hurdles, having taken the global mark in the event down to 50.68 and claimed Olympic and world crowns over the past couple of years. But in Boston the 23-year-old contests the 60m for the first time, and she's not easing herself in gently. With two heats before the final, McLaughlin-Levrone is joined on the roster by world leader Aleia Hobbs, world 200m champion Shericka Jackson and world indoor silver medallist Mikiah Brisco, plus Candace Hill, Melissa Jefferson, Cambrea Sturgis and Anthonique Strachan, as well as another hurdles specialist in Kendra Harrison.
USA's 26-year-old Hobbs raced in the world 100m final in Oregon last year and she made another statement in Fayetteville last weekend, improving her 60m PB first to 7.05 and then to 6.98 to become the 13th woman to ever dip under seven seconds in the discipline.
Like McLaughlin-Levrone, the versatile Jackson will be looking for a strong start to her year following an impressive 2022 in which she won the world 200m title in 21.45, the second-fastest mark of all time, and improved her 60m PB to 7.04 in the final of the World Indoor Championships in Belgrade.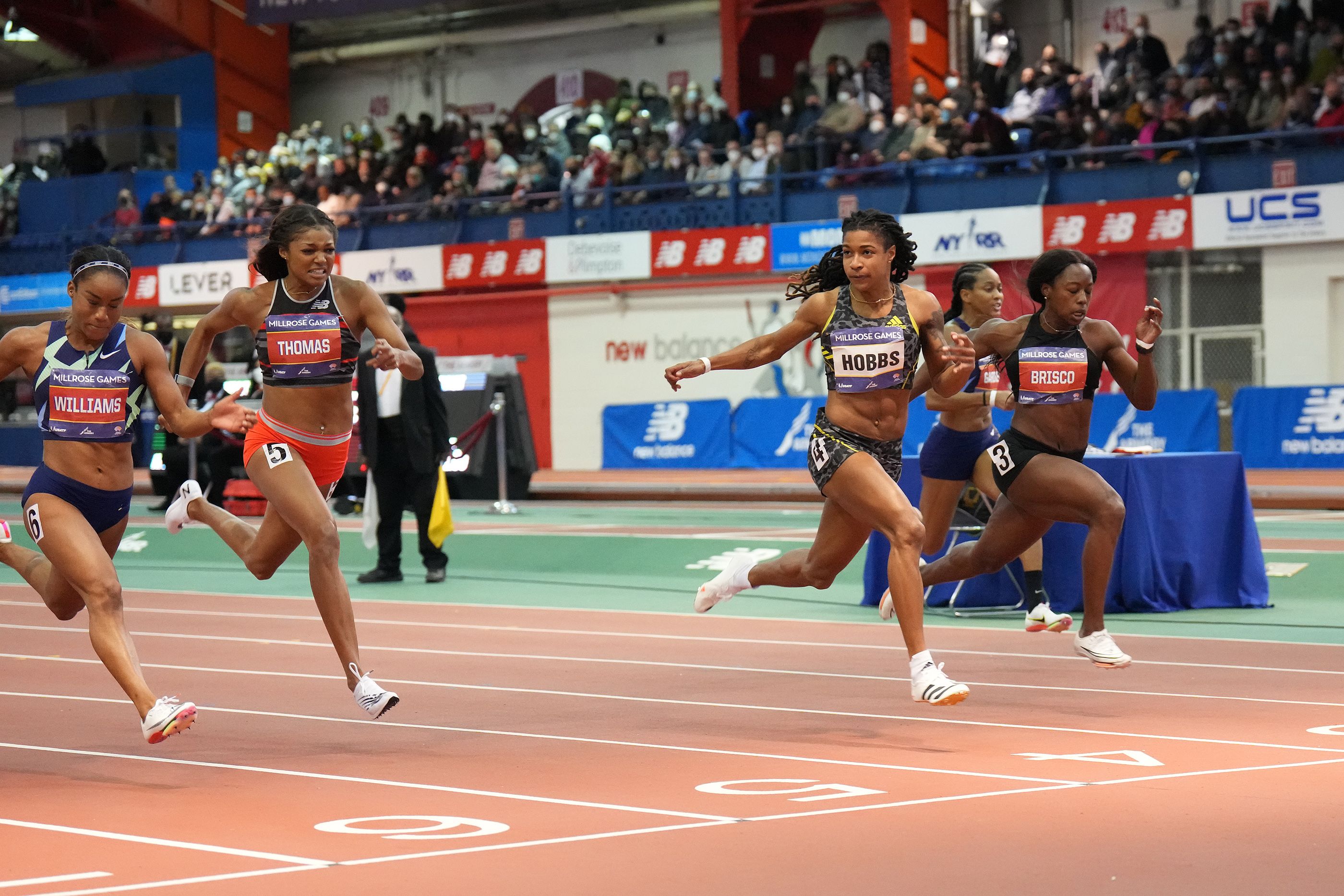 Aleia Hobbs wins the 60m at the Millrose Games (© Kirby Lee)
The men's 60m will also be a clash of global gold medallists. Lyles joined Jackson in storming up the world 200m all-time list in Oregon, running a US record of 19.31 to retain his title. Now the 25-year-old will be looking to build on his season-opening 6.61 run in Gainesville as he hunts for a second consecutive win at this meeting after his 6.56 victory in 2022.
Challenging him will be USA's 2016 world indoor champion Bromell, who claimed world 100m bronze in Oregon after a series of injury struggles. Lyles' brother Josephus also features, as do their compatriots Demek Kemp and Kendal Williams plus Ghana's Benjamin Azamati.
McLaughlin-Levrone isn't the only 400m hurdler looking to shake things up in Boston. Femke Bol has joined her US rival on the podium at the Olympic Games and World Championships, and sits third on the world all-time list in her specialist event. She further proved her range by completing a gold medal treble at last year's European Championships, winning titles in the 400m hurdles, 400m flat and 4x400m, and in her first race of the season she steps up to contest the 500m for the first time.
The 22-year-old has an indoor 400m PB of 50.30 and the world indoor 500m best stands at 1:06.31. Also testing themselves over the less regularly raced distance will be her Dutch compatriot Lisanne De Witte and Jamaica's Janieve Russell.
Another non-championship event – the women's 300m – will be headlined by Olympic 200m bronze medallist Gabby Thomas, aiming for her fifth consecutive win at the meeting, where in 2021 she ran the 35.73 PB that places her fifth on the world all-time list. In a clash of 100m, 200m and 400m specialists, her competition includes her Olympic 4x100m silver medal-winning teammate Jenna Prandini, USA's Olympic 4x400m champion Lynna Irby and Poland's Olympic 4x400m silver medallist Anna Kielbasinska.
Trinidad and Tobago's world indoor champion Jereem Richards returns after his 2022 win at this meeting and leads the men's 400m entries along with USA's multiple global relay gold medallist Vernon Norwood, runner-up last year.
Kincaid and Stafford back on track after area records
Boston has already been a happy hunting ground for Woody Kincaid this season and he'll hope for more of the same on Saturday. The 30-year-old ran 12:51.61 for 5000m last week to take more than two seconds off Grant Fisher's year-old North American indoor record and move to fourth on the world all-time list. This time he races the 3000m, an event in which his compatriot Yared Nuguse also set an area record of 7:28.24 in Boston last Friday. Nuguse doesn't return but the fourth-placed athlete in that race – Ethiopia's world U20 5000m champion Addisu Yihune – does, and they will go up against athletes including Germany's world indoor finalist Max Thorwirth, USA's NCAA indoor mile champion Morgan Beadlescomb and Canada's Charles Philibert-Thiboutot.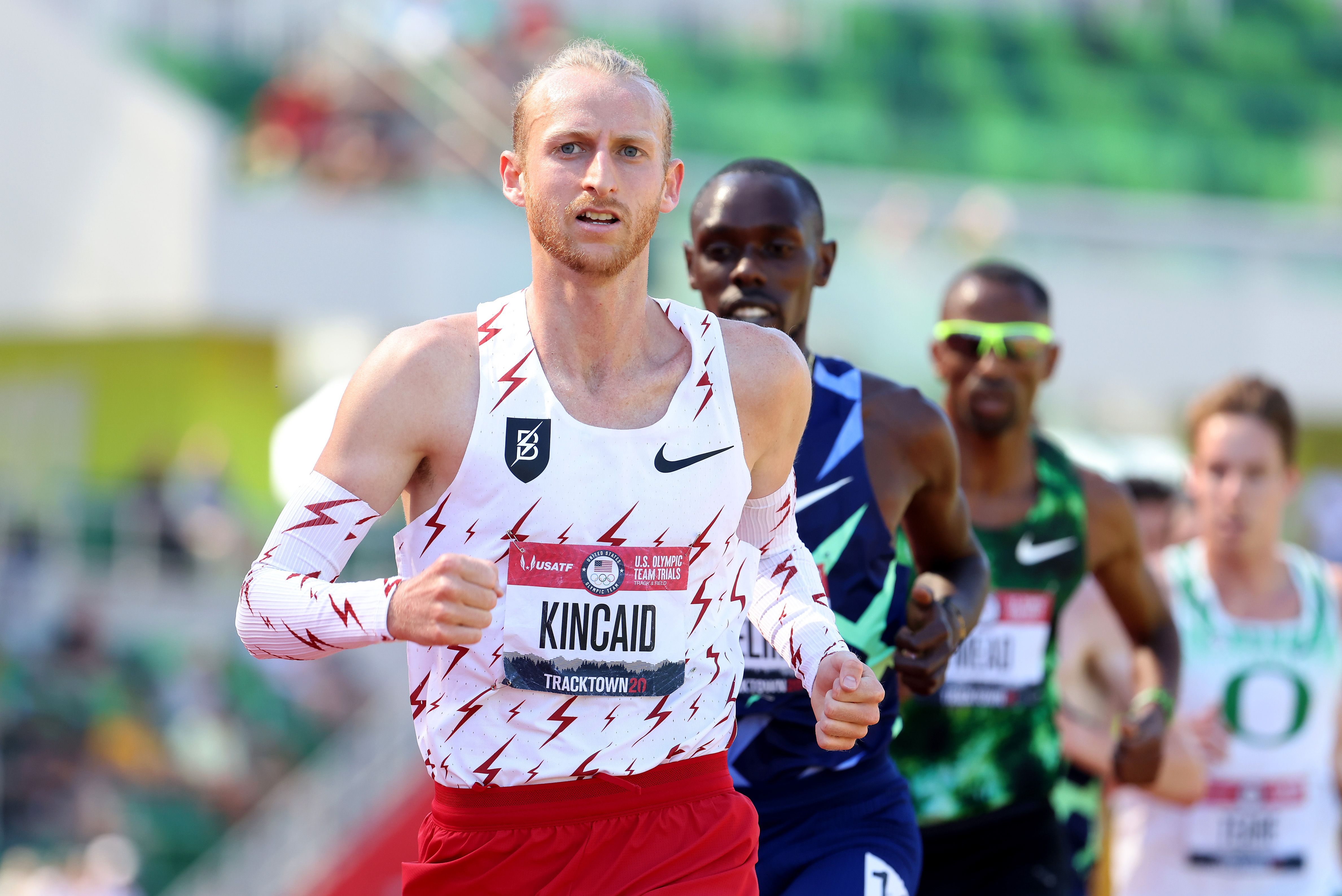 USA's Woody Kincaid (© Getty Images)
Laura Muir and Ciara Mageean will go head-to-head in the women's 3000m, looking to pick up from where they left off in 2022. Great Britain's Muir, the European 3000m record-holder with her PB of 8:26.41 set in Karlsruhe in 2017, claimed world, European and Commonwealth medals in 2022 and ended her year with a New Balance Fifth Avenue Mile win in New York. Ireland's Mageean, meanwhile, claimed silver medals behind Muir at the Commonwealth Games and European Championships, and went on to win the 1500m at the Brussels Diamond League meeting in 3:56.63 to improve Sonia O'Sullivan's 27-year-old Irish record.
Adding further strength to the field are Spain's Marta Perez, Germany's Lea Meyer and Jamaica's Adelle Tracey.
Lucia Stafford was another athlete to set an area record in Boston last weekend, the Canadian 24-year-old clocking 2:33.75 on her season opener to launch herself to ninth on the world indoor 1000m all-time list. She won that race ahead of USA's Allie Wilson, who ran 2:36.31, and the pair meet again on Saturday, this time racing the mile against 2017 world 3000m steeplechase champion Emma Coburn, NACAC 1500m champion Heather MacLean, Olympic 800m fourth-place finisher Jemma Reekie and Esther Guerrero, who won the 1500m at what proved to be a strong edition of the New Balance Indoor Grand Prix for Spanish athletes last year.
Ireland's Andrew Coscoran is back to defend his title in the men's mile, following his 3:53.64 PB victory in 2022. He started this year with a 1000m win in 2:19.25 at the Boston University John Thomas Terrier Classic and now competes against Britain's Neil Gourley and Charlie Grice, plus USA's Johnny Gregorek and 19-year-old Hobbs Kessler, who has set North American U20 records in the 1000m and 1500m over the past couple of years.
Mariano Garcia ran a Spanish indoor record of 1:45.12 to win the 800m ahead of USA's Bryce Hoppel at this meeting last year, before the pair went on to claim gold and bronze, respectively, at the World Indoor Championships in Belgrade. They resume their rivalry in Boston, where they will also take on Ireland's Mark English, USA's Isaiah Jewett and Britain's Kyle Langford and Daniel Rowden, the latter racing indoors for the first time.
The world indoor champion also leads the entries for the women's 800m, USA's Ajee Wilson looking to maintain an indoor win streak that dates back to March 2018, when she finished second in the world indoor final in Birmingham. She started her season with a 2:35.97 1000m victory in New York and returns to her specialist distance to race against her compatriot Olivia Baker and British trio Isabelle Boffey, Ellie Baker and Lynsey Sharp, who continues her comeback following injury and the birth of her son.
Moon vs Stefanidi in clash of Olympic champions
The two most recent Olympic champions will go head-to-head in the women's pole vault, when USA's Tokyo winner Moon takes on Rio gold medallist Stefanidi of Greece. Competing under her maiden name of Nageotte, Moon also won world gold in Oregon and claimed world indoor silver in Belgrade last year. That world title win on home soil in July was Moon's last competition and she will be keen to pick up from where she left off, in a year that offers the chance to defend her title in Budapest in August.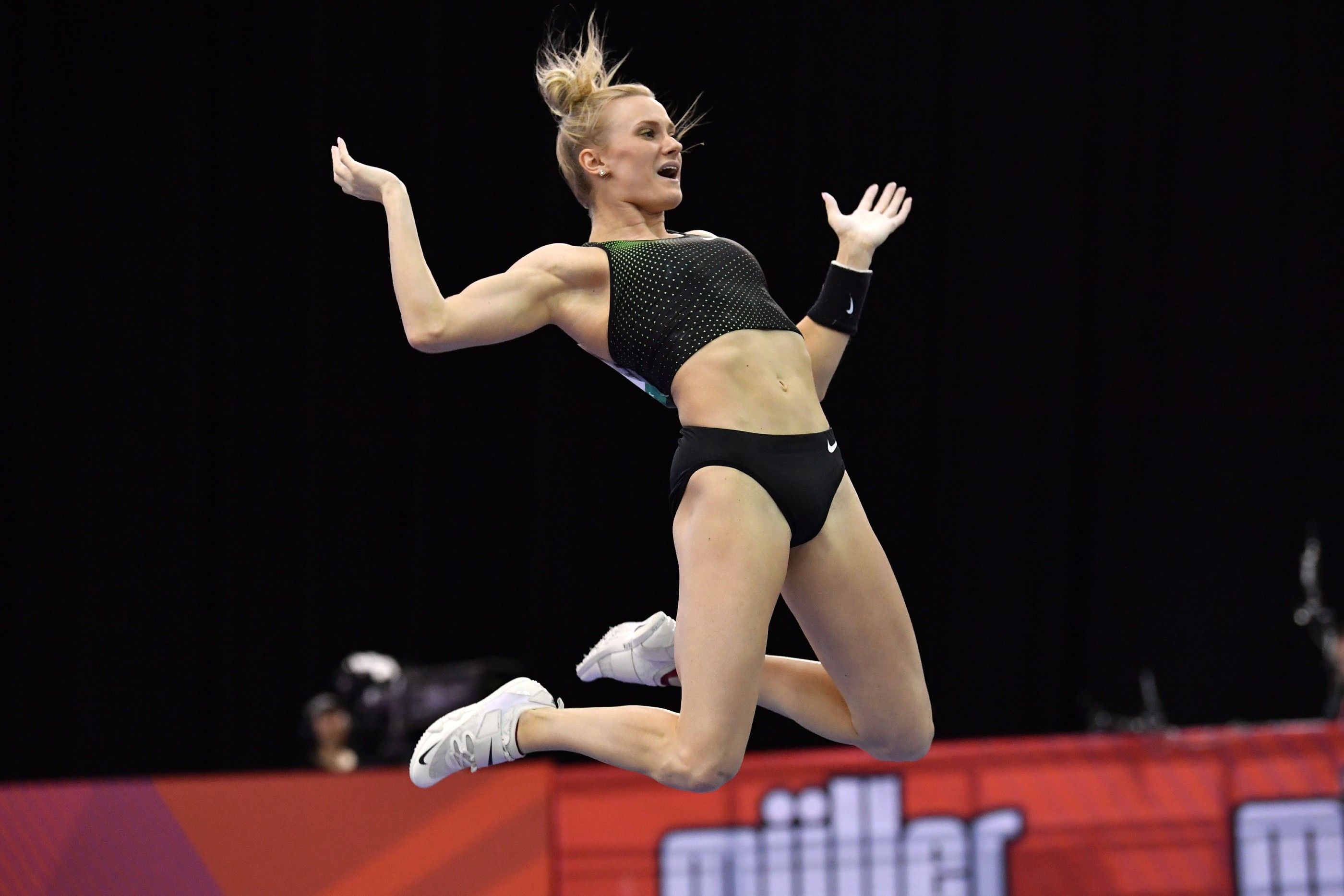 US pole vaulter Katie Moon (© AFP / Getty Images)
Stefanidi is also a world gold medallist, thanks to her victory in London in 2017, and she claimed world indoor bronze medals in 2016 and 2018. The pair last clashed indoors in 2019 and their indoor head-to-head record stands at 13-4 to Stefanidi, although Moon has the higher PB of 4.95m (4.94m indoors) compared to Stefanidi's 4.91m (4.90m indoors).
In the men's high jump, USA's JuVaughn Harrison returns to contest the event for the first time since his 2.34m clearance for the runner-up spot at the Wanda Diamond League Final in Zurich in September. The 23-year-old, who finished fifth in the long jump and seventh in the high jump at the Tokyo Olympics, opened his season in the horizonal event and now makes his season debut in the high jump.
Also seeking a strong season start will be India's Commonwealth bronze medallist Tejaswin Shankar and 2007 world champion Donald Thomas of The Bahamas.
The New Balance Indoor Grand Prix moved to Staten Island in 2022 due to the pandemic but makes its debut at the TRACK at New Balance in Brighton, Massachusetts, this weekend.
Jess Whittington for World Athletics