Finland's Reetta Hurske and USA's Daniel Roberts highlighted the sixth and penultimate Gold level meeting of this season's World Athletics Indoor Tour, held in Madrid on Wednesday (22).
In doing so, the hurdles events took centre stage in the Spanish capital, while Yared Nuguse maintained his winning streak with a solid victory in the men's 1500m.
First sub-7.40 for Roberts
Roberts was steely in the men's 60m hurdles on his way to a big PB of 7.39, just 0.01 shy of world record-holder Grant Holloway's world-leading mark this season. The 24-year-old Roberts dominated from the gun after a rocket start and got the better of Cuba's Roger Iribarne, who also improved his lifetime best by 0.01 to 7.48.
The fight for third place saw a tight finish between USA's Freddie Crittenden and Spain's Enrique Llopis, both given 7.51 but the former prevailing by thousands of a second.
After his first sub-7.40 performance, the elated Roberts said: "I felt great, I just wanted to come out here and do my best.
"I finish the indoor season with a personal record, so that's a good hint for the outdoor season where I also aim to break my PB of 13.00. Let's see what I can do at the World Championships."
Daniel Roberts wins the 60m hurdles at the World Indoor Tour Gold meeting in Madrid (© Sergio Mateo Maria)
Hurske with another national record
There were fireworks too in the women's 60m hurdles, which witnessed the victory of the in-form Hurske. The 27-year-old Finn posted a 7.82 semifinal, just 0.01 away from her career best, which she broke in the final to beat her national record for the fifth time this indoor season courtesy of her 7.79 time.
France's world indoor champion Cyrena Samba-Mayela produced a massive season's best of 7.84 to take the runner-up spot ahead of Nadine Visser of the Netherlands, third in 7.86.
"This season I'm healthy without any injuries, which has enabled me to train more intensely and that's key to improving," said Hurske. "I expect to win a medal at the Europeans. I think the gold medal will take 7.7x, so I'll try to run even faster than today."
Mighty Nuguse remains unbeaten
Perfectly paced by his US compatriot Erik Sowinski in the men's 1500m, Nuguse went through the opening 400m in 55-low (54.84 for Sowinski) and no one else dared to follow that speed. Spain's Mario Garcia Romo was running some 10 metres behind his training partner but the European bronze medallist was overtaken before the 500m mark by the newly-minted European indoor 3000m record-holder Mohamed Katir, who began to close the gap to Nuguse.
By the 800m mark, reached in 1:52.06, the world record was on schedule and Katir began to push Nuguse for the lead. The pacemaker courageously reached 1000m marginally outside 2:21 but then the speed slowed to lose any chance of a world record-breaking performance.
To the delight of the crowd, Katir passed Nuguse some 320m from home to reach the bell in the lead, but the US athlete bounced back strongly on the home straight to take a clear win in 3:33.69 to Katir's career best of 3:34.32. Spain's Adel Mechaal came third, also in a PB of 3:34.82.
"My tactic was simple," said Nuguse, "follow the pacer and then keep pushing towards the end. Katir overtook me but I stayed calm and pushed a bit more.
"I came here to run fast and that's exactly what I did, so I can't be upset. I'm just really excited for what outdoors is going to bring, that's a much longer season than indoors and I'll need to be consistent throughout the whole season. Hopefully, I'll do my best at the World Championships in Budapest."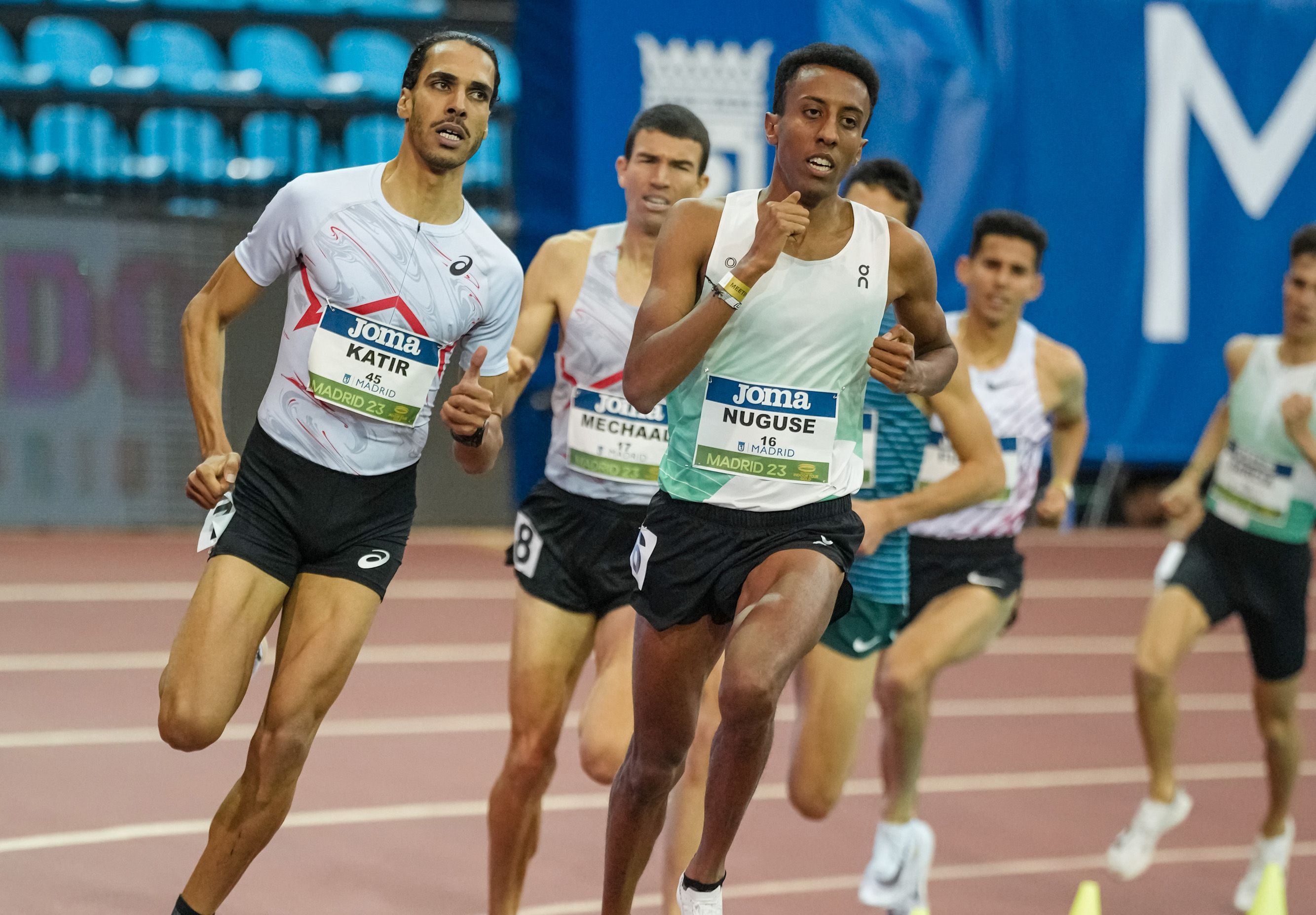 Yared Nuguse maintains his win streak with 1500m victory in Madrid (© Sergio Mateo Maria)
Another day at the office for Povea
As expected, the women's triple jump became a Cuban party thanks to Liadagmis Povea and Leyanis Perez. It was world leader Povea who took top spot in the first round with a 14.59m effort and she then improved on her second try to 14.59m. By then, Perez was second courtesy of a 14.47m opening round.
In the second half of the contest, Povea strengthened her lead with a 14.65m final jump while Perez could only add three centimetres to finish runner-up with a 14.50m leap. They were the only athletes exceeding the 14-metre barrier as Portugal's Olympic silver medallist Patricia Mamona had to settle for a 13.98m performance to place third.
Tight win for Tentoglou
The men's long jump had interesting depth, with five athletes reaching the 8.00m barrier. Greece's Olympic and world indoor champion Militiadis Tentoglou kicked off with a modest 7.86m and improved with his next attempts to 8.07m and 8.15m.
Cuba's Olympic bronze medallist Maykel Masso also landed 8.15m in round four to set an indoor PB and Sweden's Tobias Montler was just a single centimetre shy (8.14m) in round three to add more drama to the contest.
There were no further improvements in the closing two rounds, the victory going to Tentoglou by virtue of a longer second jump, 8.07m to 7.98m. Spain's Jaime Guerra (8.08m) and Cuba's Lester Lescay (8.00m) set respective season's bests.
Mitton prevails over Ealey
Likely hampered by jet-lag effects as she had taken the US title in Alburquerque just four days earlier, world champion Chase Ealey began hesitantly in the women's shot put with a foul and successive heaves of 18.35m and 18.82m.
By midway in the contest, Canada's Commonwealth Games champion Sarah Mitton led with a 19.76m third-try toss but the world indoor silver medallist Ealey bounced back in round five, reaching 19.52m to move to second place. She also improved with her last attempt, measured at 19.64m, but that was not good enough to overtake Mitton, who also achieved a 19.49m put in the fourth round.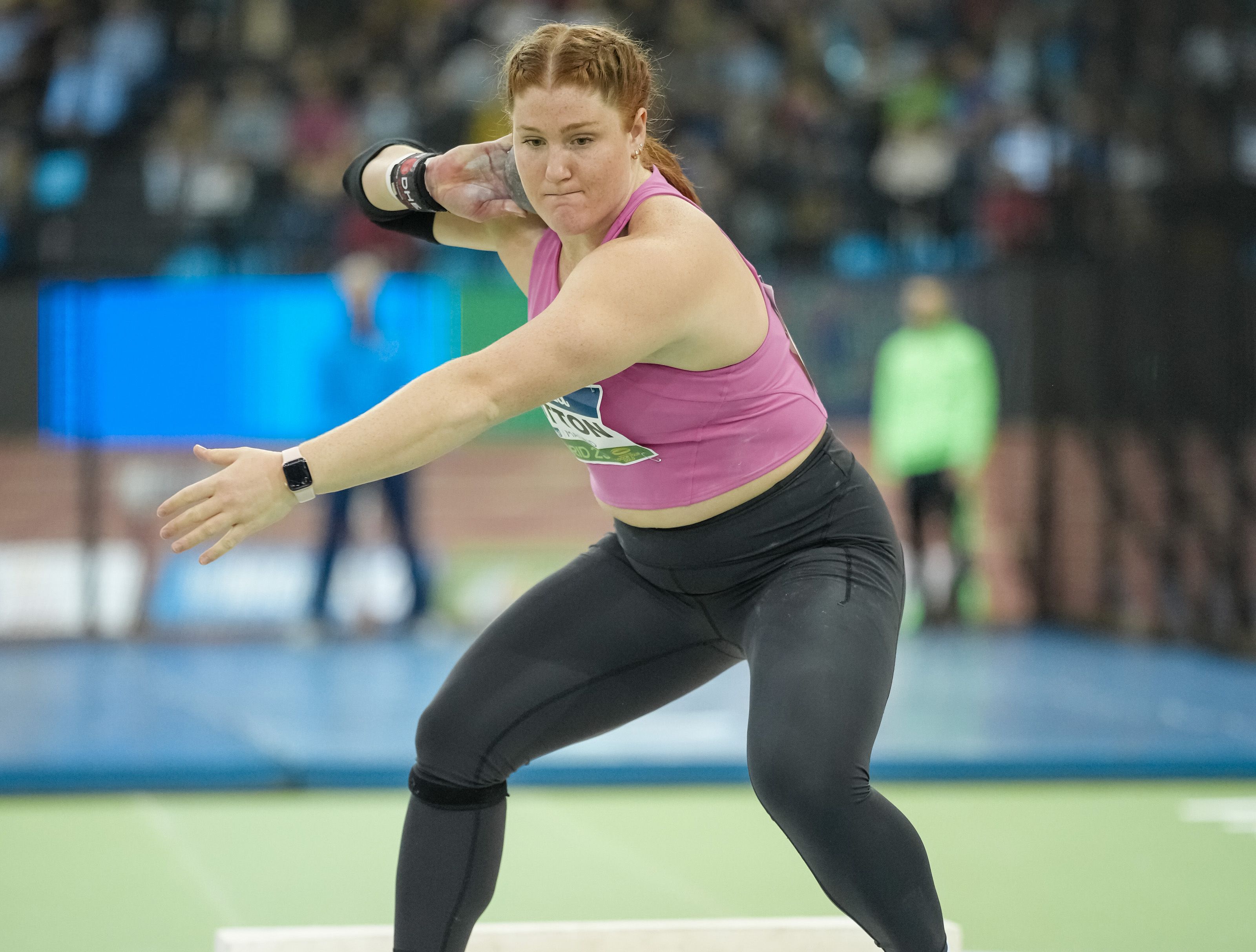 Shot put winner Sarah Mitton in Madrid (© Sergio Mateo Maria)
Local athletes dominate the 400m and 800m
Spain's European indoor 400m champion Oscar Husillos went out very quickly in the men's 400m, covering the opening 200m in 21.36 closely followed by Denmark's Benjamin Lobo Vedel.
During the second lap the local athlete managed to hold off Vedel's challenge to win in 45.84, while Vedel was pipped to the line by Spain's Inaki Canal, 45.95 to 45.98 – a season's best for Vedel.
Spain's Saul Ordonez kept momentum with a convincing victory in the men's 800m. After a 51.37 400m split, the 28-year-old 2018 world indoor bronze medallist ruled the race with a 1:46.22 clocking, finishing comfortably ahead of Sweden's Andreas Kramer (1:46.52) and Spain's Javier Miron (1:46.73).
World indoor champion Mariano Garcia was never a factor and finished seventh. Ireland's European outdoor bronze medallist Mark English took the B race to equal his season's best of 1:46.57.
Elsewhere in Madrid, Niger's world 200m fourth-place finisher Aminatou Seyni became an overwhelming winner in the women's 60m. The 26-year-old had already taken her lifetime best from 7.16 to 7.11 in the semifinals and improved again in the final with a 7.08 clocking, head and shoulders ahead of N'ketia Seedo of the Netherlands in 7.22.
Benin's Noelie Yarigo was dominant in the women's 800m, but the second-quickest woman this year over the distance could not go beyond 2:01.47 on this occasion. She was followed by Australia's Catriona Bisset (2:01.74) and Uganda's Winnie Nanyondo, third in 2:01.74.
The men's 3000m was won by Kenya's Amos Bett in 7:42.53 ahead of Bahrain's Birhanu Balew (7:43.20), while Canada's Alysha Newman was victorious in the women's pole vault thanks to a third-time 4.65m clearance.
Emeterio Valiente for World Athletics
LINK RESULTS
LINK PHOTO GALLERY